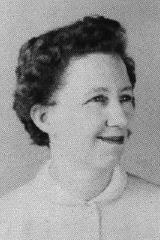 From the '56 Coaldigger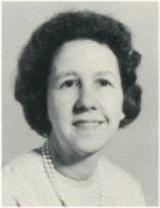 From the '65 Coaldigger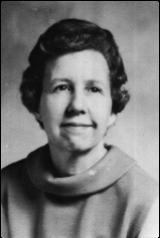 From the '78 Coaldigger
Thanks to all Ms. Stacks' former students who contributed comments for this feature. Thanks also to John Wilson, '65, Molly Lambert-Nelson, '56 and Mary Presley Gaddis, '56 for contributing yearbook photos. Special thanks to Ms. Stacks who graciously took the time to talk with me as I prepared this feature. I hasten to point out that any grammatical errors are solely mine! --DW
...the teachers we tend to remember are the ones who were toughest on us and held us to a higher standard.
--Homer Hickam
Margaret Stacks was born in Hartwell, GA on May 30, 1920. Eight years later her parents, Sam and Emily Stacks, moved Margaret and younger brother Frank to McDowell County in search of economic opportunity. The family settled in Welch.
From an early age Margaret exhibited a love of reading and learning. As a student in the McDowell County school system she encountered teachers who cultivated this love and offered encouragement. Looking back at her time as a student in the county schools, she has especially fond memories of writing for the Welch High School student newspaper, The Maroon Wave. If fact, Margaret initially hoped for a career in journalism. She graduated from Welch High School in 1938.
As Margaret entered West Virginia University following her high school graduation her career plans had changed. Journalism, like so many professions at the time, had little room for women, and Margaret had decided to follow her love of learning and letters into a career as an English teacher. She was awarded her AB degree in 1942, having completed a major in English and minors in French and Social Studies.
In the fall of 1942, Margaret returned to McDowell County and began her tenure as a teacher at Gary High School. During her first three years she taught Geography, Spelling and Science. She then switched to English and would teach English at Gary High School until it closed its doors in 1978. In addition to her teaching duties, Margaret served as the senior class sponsor and as the sponsor of Tri-Hi-Y, the high school affiliate of the YWCA. In 1978 Gary and Welch High Schools were consolidated to form Mount View High School. Margaret taught English at Mount View until her retirement in 1982.
Throughout her teaching career and her retirement Margaret has always been active in community affairs. She is past president of the McDowell County chapter of the American Association of University Women and past treasurer of the McDowell County Retired School Employees Association. She served as a literacy volunteer and also volunteered her time at Stevens Clinic Hospital. She has been active with the McDowell County Womens' Club and is a member of the First Baptist Church of Welch.
World War II was raging as Margaret began her career at GHS. During her tenure US troops also fought in Korea and Vietnam. The civil rights movement swept the nation. A president resigned in disgrace. Men walked on the moon. Amidst this great change Margaret was constant--constant in her dedication to her students and to teaching, constant in her determination to do her part to prepare the students of Gary High School to enter the ever-changing world. In the minds of many former students, Margaret Stacks personifies Gary High School and their high school experience.
Margaret still makes her home in Welch. She is very close to her two nieces, Margaret and Natalie, and delights in her two great nieces and her great nephew. She very much enjoys hearing from former students. Her mailing address is available from the webmaster.
Sponsors and Officers of the Senior Class of 1967


Margaret Stacks, Bobby Yuhasz (president), Linda Elswick (vice president), Belinda Wilkerson (treasurer), Shirley Easley (secretary), Dale Harris (sargeant-at-arms), Mary Sargent, Charles Moore.
From Former Students...
It was the steely resolve of this lady to see that each of the students in her charge would strive to the best of his/her ability that molded me into the person I am today. I have been an English teacher for 30 years, and I owe my ability in teaching English skills to Miss Stacks. On several occasions she required us students to rewrite the same paper seven times. That is where I learned the power of proofreading and also that nothing is perfect and can always be improved.

Further, I have tried to model my teaching style on hers by setting the bar high enough for my students that they know I will not settle for mediocre. Not only did this dedicated lady teach me English skills, but she also instilled in me a character that strives to do the best that I can.

--Nancy Bell Puckett, '66
Most schools have a roster of outstanding staff who have influenced its history and have had an impact on its students. Miss Stacks is one such staff member for Gary High School and later Mount View High School. Not only did Miss Stacks master her subject and teach it well, her method of teaching had a great impact upon us. She was a no-nonsense teacher who made it known that she was there to teach you English. Students believed her, witnessed her sincerity and respected her for it and gave her a place of honor in their lives.

--Tadeus Las, '47
Ms. Stacks had more influence on me than any other teacher in my years in public schools. I have thought of her so many times in my life.

--Jack Hall, '56
I always had great respect for Ms. Stacks. She was very tough but fair and she never showed any partiality toward anyone. That's what I admired most about her. Even now I think about her from time to time.

--Bud Farmer, '58
I am a former student of Miss Stacks. She taught me English/Literature for four years at Gary High School. She was an excellent teacher! She was dedicated to her students and she demanded respect. If we would have had a "Teacher of the Year" program in McDowell County during that time, she would have been the winner!!!!!

--Tammy Thompson Kinzer, '77
From the time I was in grade school I dreaded senior English because I knew I had to get through Ms Stacks to graduate. After just one quarter, I was attending senior English two times a day and doing all kinds of papers for extra credit. I had to work my tail off just to get a "C" for the semester. It was hard for me to realize what she was doing was for my own good.

After high school, I attended college. I breezed through English 101 and 102. This was primarily due to the efforts Ms Stacks forced me into. Since that time, I've worked in several jobs at the Tennessee Valley Authority (TVA) that required strong oral and written communications skill. I've received numerous commendations for my excellent communications skills.

Thanks, Ms Stacks! You've made my life so much more rewarding. You've shown me that through hard work even a boy from Wilcoe Yard can make it big in the world.

--Danny Rose, '65
I was a student of Ms Stacks--class of '52. I felt she taught me more in English than anyone in my life. As I passed through life, time upon time, I could feel her present in helping me overcome the tasks one faces in life. Even today I still use her teachings in dealing with life's encounters. I rate her along with Ms Sargeant as two of the most respected women in my life.

--W. Harless Rush, '52
I was one of the fortunate students who was in Ms. Stacks' class for all three of my high school years. While she seemed quite intimidating at the time, I later realized that she was simply doing her job and my appreciation of her increased. She was a no nonsense teacher who was firm but fair.

I remember a time when she had assigned each of us to review a magazine and she was to call on us the following day to give a report. Well, lo and behold, I had spent too much time on the annual staff and forgot to do my review of the Reader's Digest. The next morning, as she closed the classroom door, she called on me to give my report. Unfortunately, I did not get even the price of the book correct. After I had made a fool of myself, she calmly stated that anyone else in the room who had been assigned the Reader's Digest now knew what not to say. I don't remember a time of any worse embarrassment. She asked me to stay after class, at which time she told me how disappointed in me she was and that she hoped that would never happen again. I can assure you it did not.

Over the years, my memories of her have been only fondness and thankfulness for her standard of education. We need more teachers like her today.

--Dianna Thomas Dietrich, '58
When I found out that I was going to have Ms. Stacks for English, I was scared to death. I had heard how hard she was and I didn't know what to expect. When I got to class I always made sure that I sat in the front, so I could be more attentive and do my best. I, like everyone else that Ms. Stacks taught, learned so much from her and she was such a sweet lady. I am so glad that I was one of her students.

--Josie Cavallo Mabry, '72